OUR BOOKSHOP AT ROCKDALE IN SYDNEY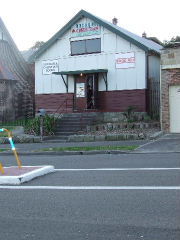 Rockdale Christian books is supported by Bexley - Rockdale Presbyterian Church
The bookshop has been at Rockdale for over 10 years.  The shop has approximately 
10,000 new and secondhand evangelical and reformed titles.
Our long term aim is to establish the bookshop at Rockdale as independent 
entity owned solely by Book Aid (Australia). As such all stock will be available 
for overseas and profits from sales will be used to assist our overseas work.
The shop is staffed by volunteers and we are always interested to hear from 
potential new volunteers to enable us to open longer hours. 
We are open three afternoons each week (Wednesday - Friday) between 2.00pm and 5.30pm 
NB Most listed items on our web site are held at Fitzroy Falls but can with notice be 
brought to the shop at Rockdale for inspection.
Address:
Rockdale Christian Books
11 Watkin Street 
Rockdale
NSW 2216 
Tel: 02 4887 7024
 Opening Hours
Wednesday 2.00 - 5.30pm
Thursday 2.00 - 5.30pm
Friday 2.00 - 5.30pm