You must allow cookies and JavaScript for a proper shopping experience.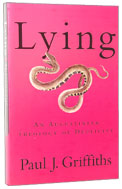 Price: $24.20
Publisher: Brazos Press, : 2004.
Seller ID: 40572
ISBN-13: 9781587430862
Binding: Softbound
Condition: NEW
---
Dimensions: 151 x 231 x 19 mmWeight: 0.400 kilosPages: 256 Most people would agree that compulsive lying is a "sickness." In his provocative LYING, Paul Griffiths suggests that consistent truth telling might evoke a similar response. After all, isn't unremitting honesty often associated with stupidity, insanity, and fanatical sainthood?Drawing from Augustine's writings, and contrasting them with the work of other Christian and non-Christian thinkers, Griffiths deals with the two great questions concerning lying: What is it to lie? When, if ever, should or may a lie be told? Examining Augus...
View More...