You must allow cookies and JavaScript for a proper shopping experience.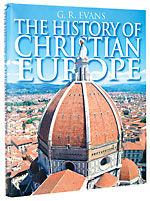 Price: $38.40
Publisher: Lion UK, : 2009.
Seller ID: 56405
ISBN-13: 9780745952659
Binding: Hardbound
Condition: NEW (inc DJ)
---
224ppWeight: 0.917 kilosThis book offers a fascinating portrayal of the development of Christianity in Europe and shows its encounters with other religions and cultures. It also shows the cultural background and diffuse influence of Christian Europe in the growth of world civilisation over 2000 years. The main narrative covers: The Beginning (the process by which Jesus' teaching was carried throughout the Roman world); Surviving the death of Empire (the growth of monasticism and the role of Christianity in the rescue of classical learning); Building a new world (the balancing of church and st...
View More...